Herzlich Willkommen in der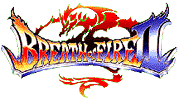 Sektion des RPG-Inn!
Breath of Fire II ist der direkte Nachfolger von Breath of Fire I und spielt einige Jahre nachdem Myria's besiegt wurde.
Das Volk der Drachen ist seit Ewigkeiten nicht mehr gesehen worden. Nur in einem kleinen Dorf wo die Zeit kaum eine Rolle spielt, ist ein Drache in einem Schlaf gefallen und bewacht den Zugang zu einem Höhleneingang und schützt so das Dorf vor dunklen Mächten.
©2001, 2002 by deeveedee